Kenya has been making headway with their Plastic Ban, and Plastic Continents wants to share with you, what has been said about it so far!
They say Kenya has come of age in environmental consciousness.
Plastic bags ban was long overdue, conservationists say.
Summary:
The ban was announced by Environment Cabinet Secretary Judi Wakhungu on February 28.
The conservationists commended Prof Wakhungu on the ban.
They encouraged Kenyans need to adopt re-usable and eco-friendly alternative packaging materials.
Conservationists have lauded the ban on plastic bags and vowed to lend their support to make it a success.
The Green Belt Movement and Greenpeace Africa, in statements sent to newsrooms Monday, congratulated the State on the bold move and said the ban was long overdue.
The organisations said the ban is a sign that Kenya had come of age as far as environmental consciousness is concerned.
"We welcome the decision by the government to implement the plastic bags ban.
"This is a beacon of hope in fostering an environmentally conscious society and is a clear message that Kenya is ready to join other African countries in taking bold steps on environmental," said Greenpeace Africa's Executive Director Njeri Kabeberi.
REDUCE EFFECTS
"The ban will contribute greatly to reducing the effects associated with the use and improper disposal of plastics," said Green Belt Movement's board chairperson Marion Kamau.
The ban, which was announced by Environment Cabinet Secretary Judi Wakhungu on February 28, took effect on August 28, 2017.
The conservationists commended Prof Wakhungu on the ban.
"Plastic bags are highly toxic and damage the ecosystem, they also take hundreds of years to degrade," said Ms Kabeberi.
"Kenyans need to adopt 100 percent re-usable and eco-friendly alternative packaging materials [available] in the market like the kiondo similar to the traditional Tunisian baskets called koffa that are used for shopping after Tunisia banned plastic bags in March," she added.
"As we welcome this ban, we cannot forget the challenge that lies ahead of dealing with the tonnes of plastics already polluting our environment.
"Greenpeace urges the government to work with local communities and NGOs to look for sustainable ways of recycling plastics into usable items," she added.
Kenyans urged to embrace alternative bags
The ban on plastic bags takes effect Monday even as governors on Sunday supported the directive, saying it will yield a clean environment.
The Council of Governors chairman Josphat Nanok in a statement to newsrooms said the county bosses will work with the Ministry of Environment to enforce the ban in devolved units.
"The council supports the ban and will work with the national government and other stakeholders to ensure that the ban comes into effect," said Mr Nanok.
The council pledged to work with the government in creating awareness on the ban and on environmentally friendly alternatives.
ALTERNATIVES
The council urged Kenyans to use alternative bags such as the Manila paper, canvas, jute and biodegradable plastics.
Mr Nanok said that plastics have adverse effects on the environment. "Apart from taking a century to degrade, plastic bags inhibit absorption of soil nutrients and further lead to suffocation and indigestion in both land and aquatic life," he said.
Environment Cabinet Secretary Judi Wakhungu announced the ban on the use, manufacture and importation of plastic bags on February 28 this year.
By Sunday, many Kenyans were still using the paper bags to carry goods.
CIVIC EDUCATION
A spot check by Nation established that major supermarkets such as Tuskys, Naivas, Eastmatt, Best Lady shops and retail shops in Nairobi were still packaging shopping for their customers in plastic bags.
Most of the citizens who were interviewed blamed the government for failing to engage the public on civic education and failing to provide the alternative biodegradable bags soon after the ban was gazetted.
Ms Trizah Gatweri said the ban will affect everyone as the alternative bags the government is suggesting are not being sold in the market in large quantities.
"From Monday and Tuesday, our children will be going to school. How will they carry their shopping? The bags being sold in the market are too expensive," she said.
PHASING OUT
Ms Sheela Keavile said the government should have started phasing out plastic bags slowly since last year.
"What will happen to the plastic paper bags we already have in our houses?" She said.
Josphat Mutiso, a trader along Moi Avenue, said he will suffer loses since he has a stock of plastic bags that he is yet to clear.
But on the other hand, hawkers in the city were all smiles Sunday as they made a killing from selling reusable bags.
The bags are ranging from Sh100 to Sh300.
SUPPORT
"The bags are quite expensive compared to the plastic paper bags, which have been costing from as low as Sh5 and Sh10," said Ms Jane Wairimu, a hawker.
At the same time, some supermarkets have supported the ban.
Among the supermarkets that are up in the game to meet the new directive by the Ministry of Environment are Nakumatt and Uchumi.
Nakumatt Supermarket has been running an initiative that seeks to reduce the consumption and dispensing of plastic bags across the Nakumatt network by encouraging the voluntary use of reusable bags, used cartons and bales to package shopping items.
"   ——- Daily Nation
"
Kenya brings in world's toughest plastic bag ban: four years jail or $40,000 fine
Producing, selling and using plastic bags becomes illegal as officials say they want to target manufacturers and sellers first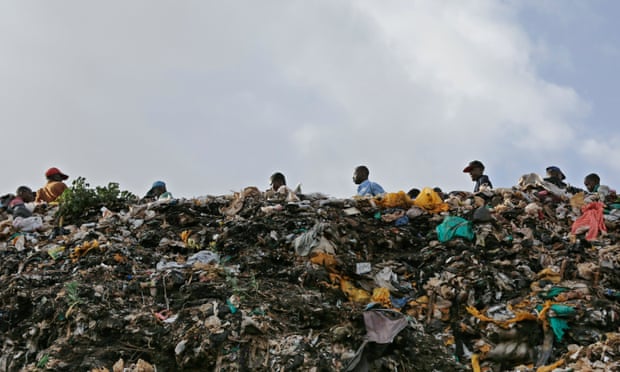 Kenyans producing, selling or even using plastic bags will risk imprisonment of up to four years or fines of $40,000 (£31,000) from Monday, as the world's toughest law aimed at reducing plastic pollution came into effect.
The east African nation joins more than 40 other countries that have banned, partly banned or taxed single use plastic bags, including China, France, Rwanda, and Italy.
Many bags drift into the ocean, strangling turtles, suffocating seabirds and filling the stomachs of dolphins and whales with waste until they die of starvation.
"If we continue like this, by 2050, we will have more plastic in the ocean than fish," said Habib El-Habr, an expert on marine litter working with the UN environment programme in Kenya.
Plastic bags, which El-Habr says take between 500 to 1,000 years to break down, also enter the human food chain through fish and other animals. In Nairobi's slaughterhouses, some cows destined for human consumption had 20 bags removed from their stomachs.
"This is something we didn't get 10 years ago but now it's almost on a daily basis," said county vet Mbuthi Kinyanjui as he watched men in bloodied white uniforms scoop sodden plastic bags from the stomachs of cow carcasses.
Kenya's law allows police to go after anyone even carrying a plastic bag. But Judy Wakhungu, Kenya's environment minister, said enforcement would initially be directed at manufacturers and suppliers.
It took Kenya three attempts over 10 years to finally pass the ban, and not everyone is a fan.
Samuel Matonda, spokesman for the Kenya Association of Manufacturers, said it would cost 60,000 jobs and force 176 manufacturers to close. Kenya is a major exporter of plastic bags to the region.
"The knock-on effects will be very severe," Matonda said. "It will even affect the women who sell vegetables in the market – how will their customers carry their shopping home?"
Big Kenyan supermarket chains like France's Carrefour and Nakumatt have already started offering customers cloth bags as alternatives.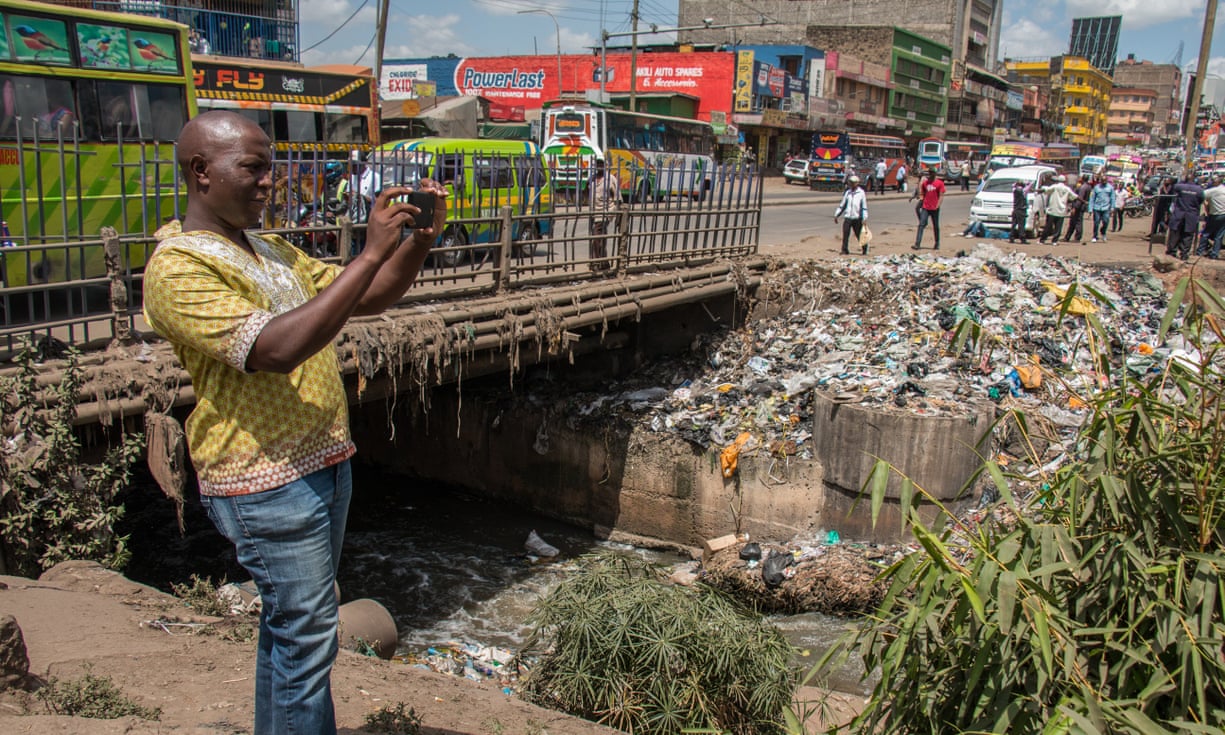 More incredible images, click here.
" ———-The Guardian
Please follow,like us, and share: