When Plastic Continents' President Natacha Palay visited Europe, the month of June and July, she discovered a company named TOMRA.
"I went grocery shopping in Bruxelles, and noticed a customer come into the store with bags full of plastic bottles. I later saw him at the entrance of the store disposing them into a machine, with the logo named TOMRA. I asked him what he was doing, and he replied that this was where you could recycle plastic bottles. I knew, right away, that I had to learn more about this company and share it with local businesses back home!"
So we did. We gathered some information they provide on their website, and even got an interview with Chuck Riegle, Senior Vice President, Governmental Affairs & Compliance, TOMRA Systems ASA :
Tell us [plastic continents and fellow viewers] a little about your company:
Pioneering reverse vending technology in 1972, TOMRA created a system that uses clean stream recycling to manage the requirements of deposit return programs. Our system uses reverse vending technology combined with a rewarding digital consumer platform to drive consumers to participate – all while preserving high-quality materials for recycling.
With over 75,000 installations across more than 40 markets, TOMRA's reverse vending machines (RVMs) capture 35 billion used beverage containers every year – reducing reliance on raw materials and ensuring fewer containers end up in landfills, oceans and streets.
RVMs, which are commonly called "bottle and can machines" by users, are an automated method for collecting, sorting and handling the return of used beverage containers for recycling. They were developed to help both retailers and consumers redeem deposit containers.
Container-deposit legislation assigns a value to each container, usually 5-or-10 cents, which is paid upon purchase of a beverage. When people return their beverage containers to an RVM, first their deposit is reimbursed, and then the recycling begins. Grocers use RVMs to make it easy for people to return their containers when they do their shopping or other errands.
You can learn more about TOMRA and our various solutions at tomra.com, and you can also find our U.S. social communities on Facebook and Twitter.
What do you do?
I am part of our external relations team, helping the public and governmental leaders understand the benefits of a deposit return system and setting these systems up for success. This includes growing the business in core and new markets, working on environmental charitable initiatives on behalf of TOMRA, engaging in public relations programs that help educate the public on the benefits of redeeming containers and working with groups who are interested in having a deposit return system implemented where they live.
How did TOMRA begin?
TOMRA was founded in 1972 in Asker, Norway by Petter and Tore Planke. Local grocers were looking for a way to quickly and easily take back empty bottles so they could focus on their core business of selling. The Planke brothers created an automated, self-service solution that we know today as the reverse vending machine. By the end of that same year, TOMRA had installed 29 RVMs in Norway and soon after began to expand throughout Europe and the United States.
How and why did you start working with plastic?
The first RVMs were designed to help grocers managing refillable glass bottles. At the same time, the 1970s saw soft-drink bottlers begin selling beverages in PET plastic bottles, designed to be discarded after use. In fact, the campaigns for plastic bottles specifically promoted the fact that these bottles could be more easily thrown away after use. There was no deposit, and, as a result, no return of the containers.
When the PET bottle began showing up as litter, it was incorporated into existing container deposit laws. TOMRA developed RVMs capable of collecting these materials, and has been working to collect plastic bottles ever since.
How many employees work for your company?
Here in North America we have approximately 800 employees, and globally we have approximately 3,300 employees
How many positions does your company have?
Too many to list, especially because we are constantly innovating and evolving! But we have employees working in research and development, engineering, product management, sales, customer support and service, human resources, marketing, communication, public affairs, barcode management (for containers being programmed into our reverse vending solutions) and more.
Are you partners with another company?
We have multiple partnerships with beverage companies and vertically integrated industry stakeholders, helping to make the deposit system one of the best methods for collecting used beverage containers. In states where only curbside recycling is used, the collection rate of used beverage containers is approximately 30%. In states where there is a container deposit system, the collection rate jumps to nearly 96%.
When did you find out about the plastic pollution phenomenon?
Norwegian companies like TOMRA have a track record of being thought-leaders on a number of social responsibility issues. TOMRA adopted its own corporate social responsibility policy in the 1990s, a decade before the mainstream. It was the environmental advocacy campaign leaders of the 1970s that identified the litter problem resulting from the shift from refillable glass bottles to one-time-use plastic containers. These leaders urged society to find a solution for the container's end-of-life, which had been neglected up until that point, with containers being discarded as litter. In the states that have deposit laws, people who were around in the 1970s will tell you that there much less bottle litter today compared to that earlier time.
Today's marine litter crisis, which stems from plastic pollution, is a similar example of neglect – and we will be confronted by it until policies are adopted to address the decades of expanded use of plastics for packaging.
Where are you located?
I work out of our Shelton, Connecticut office, which is our North American headquarters.
What are your long-term goals for the next year(s)? or three to five?
At TOMRA, we want to continue to increase the number of used beverage containers that are collected through reverse vending machines, and to continue to engage people in the act of redeeming their containers. This means bringing innovative, new solutions to the market that make recycling simple and convenient for consumers. It also means finding new ways to get people interested in the act of redeeming.
We recently launched a TOMRA RVM loyalty program – which you can participate in by downloading the TOMRA ReAct app and registering for an account. For every beverage container recycled at participating locations, consumers receive one point per container, which is in addition to the deposit return. Users can also track their personal environmental impact with the app. Growing this program is a focus area for us.
That's incredible! Plastic Continents had a solution to do just that! Where you would get rewards that would count as credit and get discounts, gas points, or prizes with the accumulation of the points you earned. An excellent way to give incentive to customers to recycle plastic!
Where do you see yourself expanding? How do you see yourself growing in order to
make an impact?
We see ourselves growing to not just be a provider of reverse vending technology, but a partner in the recycling process for grocery retailers and consumers. This means investing in new technology, creating pleasant bottle room return experiences, growing our loyalty program, as mentioned above, and working to promote environmental awareness. We want to help people see redeeming their containers as more than just an errand they need to run, but as an active choice they're making to help the planet.

What do you think we could do better or differently, when it comes to using plastic?
Making sure to redeem plastic containers, where it is an option, is something that all of us can do better. Reverse vending separates beverage containers by material type – plastic, glass and aluminum. This ensures that the materials are kept clean, which means they can be used again and again to make new, food-grade containers. At TOMRA, we call this Cleanest Loop recycling. This reduces the need for raw materials in making more containers, and keeps litter out of our streets and oceans.
For those who don't live in areas with deposit legislation, it's important to know what types of plastic are recyclable in the area in which you live, and the best way to recycle various items. This can help to keep single stream materials from being contaminated. For example, plastic bags cannot be processed through single-stream facilities, as they get caught in the equipment. Make sure to reuse your plastic bags, return them to the store, or – even better – invest in reusable bags.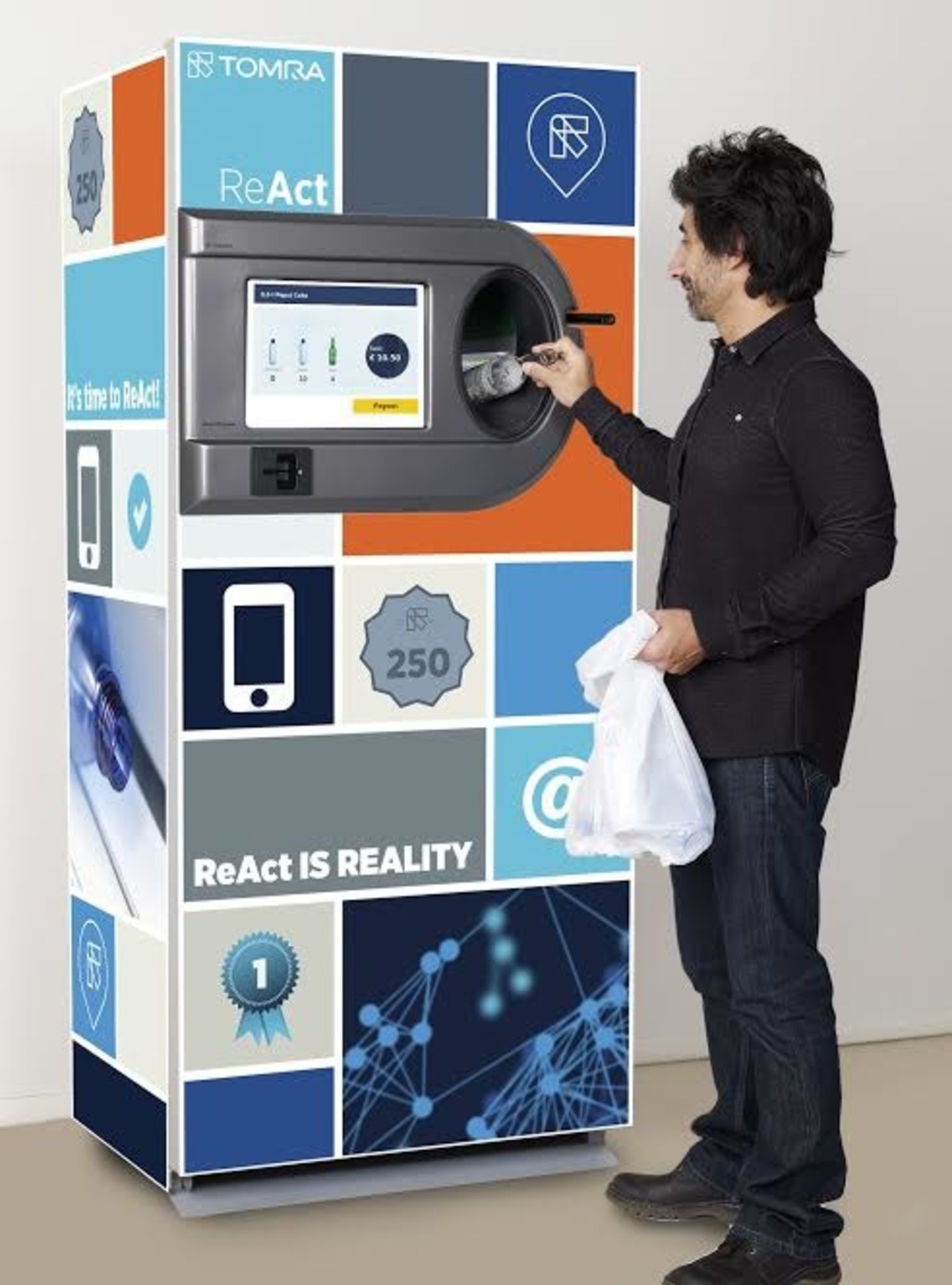 What is some advice you are willing to share with us?
We can all have a positive impact on the planet. Finding ways to help can seem overwhelming at first, but small actions do make a difference. Every year, the world uses about 1.8 trillion beverage containers, but only 20% of them are recycled or redeemed. Making the choice to redeem or recycle, or to hold onto that bottle of water or soda that you drank on-the-go until you could recycle it, all helps to contribute to more items being recycled versus ending up in our oceans.
What are some of the challenges or conflicts you have faced, and how did you overcome
them?
A major challenge that I see, which I think applies to any of us working to resolve the issue of plastic pollution, is creating awareness and understanding. There are so many people who aren't aware of reverse vending solutions, since not all states in the U.S. have container deposit laws. As a result, they may not be aware of clean stream recycling, and all of the great progress being made to make sure that items that are recycled actually get recycled.
It can also be confusing for people to know what items are recyclable where they live, because it varies so much from city to city. Someone might move and suddenly, what is recyclable can be somewhat different.
Lastly, people don't always know about the scale of the plastic pollution problem.
We haven't overcome this awareness gap, but I do know once people start learning more about plastic pollution, they are really interested in the topic and want to do all they can to help – so that's very positive. At TOMRA, we do our best to use social media to have discussions about redeeming and recycling, and we also get involved in our communities to spread the word about redeeming. Blogs like this one do great work to spread awareness, and we were glad to be invited to participate in this interview.
If you could give advice to those who are unaware of the plastic pollution problem we face today, what would you say?
There is so much information available and the plastic pollution issue spans a broad range of interest topics. Whether you're interested in wildlife, water sports, fashion, food – plastic pollution has an impact on our lives in a range of ways. Find out what aspect of the issue most interests and inspires you to make small changes in the way you approach your own use of plastic.
How do you stay positive on what can be seen as a grim topic?
Being part of a company that is actively working to combat plastic pollution makes it easy to stay positive about the topic. Every day I go to work and see the positive strides TOMRA is making, along with our business and government partners, to reduce plastic pollution. This applies to both our reverse vending and recycling divisions. I also get to work with colleagues who are all equally passionate about protecting our environment and natural resources.
It is also easy to get caught up in the negative news about pollution, but there are so many innovations happening to reduce our plastic waste and reimagine the materials that we have. From new reverse vending technologies, to people wanting to become more involved in recycling, to the ways the world is finding new ways to use ocean plastic, the future looks bright.
Any other comment(s) you wish to share would be welcomed!
I appreciate the opportunity to share who TOMRA is and what we do. It's people who have created the plastic pollution problem, and we are more than capable of eliminating it through awareness, education and responsible stewardship of the planet we all share!

Plastic Continents is going to try to get Publix, Walmart, and other Supermarket stores to partner up with TOMRA !
Please follow,like us, and share: